Discovery
Type 2 Immunity in Health and Disease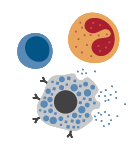 The Discovery program Type 2 Immunity in Health and Disease will be a three-day fully in-person conference within 2024 AAAAI Annual Meeting from February 22-24 in Washington, DC. The program will feature cutting-edge basic science symposia focused on type 2 immune cells, pathways, and diseases from leading investigators. In addition, the meeting will include ample opportunities to network and to showcase the work of junior investigators through selected short talks, poster sessions, and travel grants. This premier conference focused on mechanistic science in type 2 immunity will connect outstanding clinicians and scientists that work in this area.
Program Overview
Thursday February 22: Innate Immunocytes in Type 2 Inflammation
Session 1: ILC2: From Development To Function
Taylor Doherty, MD, FAAAAI
Jorge Henao-Mejia, MD, PhD
Kelly Cautivo, PhD
Victor Cortez, PhD
Roberto Ricardo-Gonzalez, MD, PhD
Hiroyuki Nagashima, PhD
Session 2: Innately Important T2 Effectors
Mark Siracusa, PhD
Magdalena Gorska, MD, PhD, FAAAAI
Adrian M Piliponsky, PhD
Daniel Dwyer, PhD
Gregory Seumois, PhD
Alexander Eggel, PhD
Friday February 23: Environmental Sensing and Response
Session 3: Microbial Regulation of Host Immunity
Susan Lynch, PhD
Chyi Hsieh, MD, PhD
Eran Elinav, MD, PhD
Karen Agaronyan, PhD
Lina Yao, PhD
Mohammed Arifuzzaman, PhD
Session 4: Epithelial Sensing and Adaptation
Jakob Von Moltke, PhD
Erin Gordon, MD
De'Broski Herbert, PhD
Shruti Naik, PhD
Anukul Shenoy, PhD
Alexander Perniss, PhD
Session 5: Neuroimmunology of the Barrier
David Artis, PhD
Xingbin Ai, PhD
Brian Kim, MD, MTR, FAAD
Caroline Sokol, MD, PhD, FAAAAI
Esther Florsheim, PhD
Lora Bankova, MD, FAAAAI
Saturday February 24: Programs That Sustain Type 2 Inflammation
Session 6: Metabolic Control of Immune Function
Edward Pearce, PhD
Christoph Wilhelm, PhD
Anuradha Ray, PhD
Soman Abraham, PhD
Amanda Poholek, PhD
Christian Schwartz, PhD
Session 7: T Cell Diversity and Effector Function
Jonathan Coquet, PhD
Talal Chatila, MD
Pandurangan Vijayanand, MD, PhD
Ricardo Da Silva Antunes, PhD
Radomir Kratchamarov, MD, PhD
Alyssa Mitson-Alazar, MD, PhD
PLEASE NOTE: Discovery Program sessions are not eligible for CME.
Registration