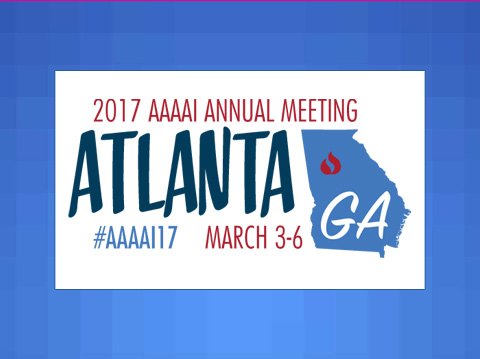 2016 AAAAI Annual Meeting
Los Angeles, CA
March 4 - 7, 2015
Mark your calendars and head to Atlanta for the premier event in allergy/immunology. You will be able to earn CME/CE, learn about cutting-edge research and enrich your networking connections at the 2017 AAAAI Annual Meeting, March 3-6.
You are invited to join thousands of allergist/immunologists, allied health and related healthcare professionals for four full days with hundreds of educational offerings on a variety of topics including: allergic disease; asthma; immunotherapy; food allergy and GI disease; skin disease; PIDD; practice management; new technologies; and health care reform.
Other features include:
• Plenary, Keynote, and Symposia Sessions
• Poster Hall and Featured Poster Session
• Oral Abstract Sessions
• Seminars/ Problem-Based Workshops and interactive learning experiences
• Pro/Con Debates
• Exhibit Hall filled with the latest products and services
Check back frequently for the latest information on attendee registration, awards and scholarships, session specifics, exhibitor details and more.
Register for the Applied IV Therapy for the Allergy/Immunology Practice course
Join us for a unique, one-day, hands-on course covering the science and practicalities of using infusion therapies in the allergy/immunology practice. Click here for details.
10


Days until the 2017 Annual Meeting
Important Dates
March 4
Career Fair
March 4
AAAAI Foundation Benefit
March 5
AAAAI Foundation Run/Walk