AAAAI Foundation Events
First, let me thank you! Your registration to attend the AAAAI Foundation's special events are key to our fundraising efforts that make it possible to grant multiple Faculty Development Awards each year.
Under these extremely unusual circumstances of the Annual Meeting being canceled, the AAAAI Foundation is altering our refund policy and you will receive a full refund for your Benefit ticket(s), 5K Run/Walk registration(s) and/or Support Ribbon purchase(s). We anticipate that refunds may take up to 4-6 weeks, so we truly appreciate your patience.
If you would like to donate the cost of your Foundation items, in lieu of a refund, please contact Foundation staff by Wednesday, March 25 by emailing foundation@aaaai.org or by calling (414) 272-6071.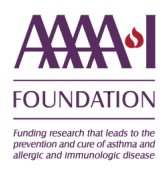 American Academy of Allergy, Asthma & Immunology Foundation Inc. (AAAAI Foundation) Formerly the ARTrustTM
555 E. Wells Street, Suite 1100 | Milwaukee, WI 53202-3823 |(414) 272-6071 | Fax: (414) 272-6070
Email: foundation@aaaai.org | Website: www.aaaaifoundation.org