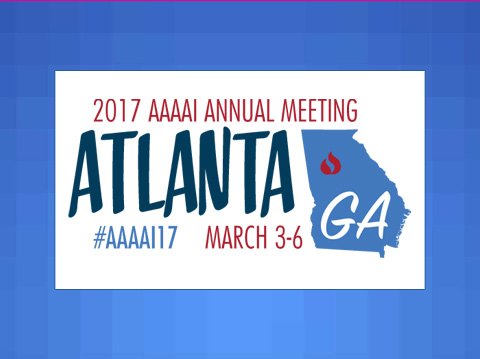 Media Information
Leading researchers in allergy, asthma and immunology will assemble at the Georgia World Congress Center in Atlanta from March 3-6 for the 2017 AAAAI Annual Meeting.
The AAAAI Annual Meeting draws the allergy/immunology specialty's academic and clinical leaders to showcase new research and discuss other developments in allergy, asthma and immunologic diseases. The meeting is attended by nearly 5,000 allergist/immunologists, related physicians, allied health professionals and industry representatives.
Contact Megan Brown with questions at (414) 272-6071 or mbrown@aaaai.org.
Media Registration/Press Pass
Members of the press representing print, broadcast and electronic consumer media and healthcare trade media are invited to attend the 2017 AAAAI Annual Meeting. Media registration is scheduled to open November 2, 2016 at annualmeeting.aaaai.org.
To register as a member of the press, journalists must provide media identification or a business card issued by their news organization. Freelance writers must provide a letter of assignment on a news organization letterhead or bylined articles from a recognized news organization. Press passes will only be issued to journalists representing the editorial staff of print, broadcast or Internet media.
The AAAAI does not issue press passes to: a publication's advertising, marketing, public relations or sales representatives; publishers, editors or reporters from manufacturers' house organs or promotional publications; public relations staff of exhibitors or educational institutions; writers creating analyses or reports sold as a commodity to customers; or other individuals who are not actually reporting on the meeting for a specific media outlet. Exhibitors may not register as press.
Due to space limitations, the AAAAI reserves the right to restrict the number of press badges issued to a single news organization.
All requests for press credentials are subject to review by AAAAI Communications staff.
All members of the press must register in advance either through the AAAAI Annual Meeting website or by contacting Megan Brown at (414) 272-6071 or mbrown@aaaai.org.
Journalists must display their press passes at all times while attending the meeting or covering meeting-sponsored events.
Press passes allow journalists access to AAAAI Annual Meeting abstract presentations, plenary sessions, interest section forums, seminars, courses, workshops, debates, keynote addresses and press conferences. Journalists may not attend the AAAAI Foundation Benefit or 5K Run/Walk without purchasing tickets. Journalists may attend other ticketed sessions as space is available, but will not be provided a meal, if one is served.
Members of the press are responsible for providing their own meals and accommodations throughout the AAAAI Annual Meeting. Beverages will be provided in the press room.
Any press pass holder who sells or markets a company or organization to a meeting registrant will have AAAAI Annual Meeting access revoked.
Exhibitors and representatives of industry, marketing, advertising or public relations firms will not be issued press passes and are not permitted in the press room or news briefing room.
Individuals, companies, organizations or institutions found in violation of these policies will have AAAAI Annual Meeting access revoked. Additional sanctions may apply.
Press Room
The 2017 AAAAI Annual Meeting press room will be in the Georgia World Congress Center. An exact location will be announced in early 2017.
Only registered members of the media and invited delegates will be provided access to the press room. Upon arrival at the AAAAI Annual Meeting, members of the press must check-in at the press room to obtain their press pass and media kit.
Press room hours
Friday, March 3
7:45 am to 5:00 pm
Saturday, March 4
7:45 am to 5:00 pm
Sunday, March 5
7:45 am to 5:00 pm
Monday, March 6
7:45 am to 5:00 pm
The press room offers registered media work stations with Internet access, computers, power outlets and printers.
Wi-Fi access will be available in the press room and other AAAAI Annual Meeting locations. Reporters are encouraged to bring laptop computers.