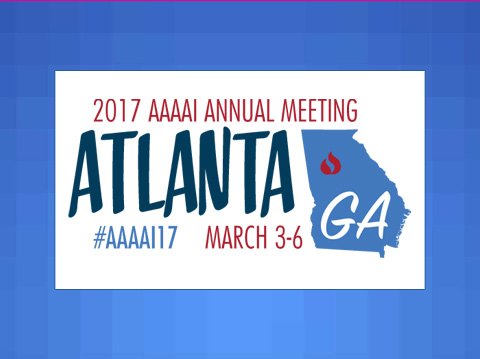 Speaker Toolkit
Thank you for joining us as a speaker or moderator for the AAAAI's 2016 Annual Meeting. This site will serve as a resource to help you prepare for your assigned sessions and to answer your questions about the meeting and what is expected of you as a session leader.
STEP 1: UPDATE YOUR DISCLOSURE
Pursuant to the Code of Ethics of the American Academy of Allergy, Asthma and Immunology and the Standards for Commercial Support of Continuing Medical Education of the Accreditation Council for Continuing Medical Education, the AAAAI requires disclosure of certain information from faculty members of educational activities designated for CME credit by the AAAAI.

To satisfy these requirements, we require that all moderators and speakers visit the Online Disclosure System to update their disclosure of financial and organizational relationships if they have not done so since July 31, 2015. Disclosures must be updated and reviewed each year, prior to the Annual Meeting.

Each faculty member's disclosure information will be reviewed for each session in which s/he is presenting/moderating. If the review indicates that the faculty member's disclosure presents a potential conflict of interest, the faculty member will be notified of this result and any steps necessary to resolve the situation. In addition, all faculty members are required to disclose their financial relationships before each presentation in which they speak, by use of a disclosure slide and a verbal statement. Disclosure slides for each session will be provided to you by AAAAI staff, based on the results of each review of your disclosure record.

AAAAI members should use the same login and password used to access the AAAAI website. Non-members should contact the AAAAI Education Team at (414) 272-6071 or cme@aaaai.org for login information.
STEP 2: UPLOAD YOUR HANDOUTS AND PRESENTATIONS
Meeting delegates look forward to having session handouts available as a resource before, during and after the meeting. Many delegates print their handouts before arriving at the Annual Meeting. Submissions typically include bibliographies, outlines, JACI articles or PowerPoint slides.

All speakers should refer to the Handouts and Presentations Deadlines and Overview for several important deadlines associated with speaker handout and presentation submission.
STEP 3: FACULTY RESPONSIBILITIES PRIOR TO THE MEETING
Preparing for your session: In late fall you will receive an email connecting you with the other faculty members for sessions in which you are speaking. This email will also give you further instruction for action items that need to be addressed.

Resources and Reference Documents:
o Use this planning worksheet as a guide to prepare meaningful content for your session.
o Visit the National Faculty Education Initiative website which provides online training on the differences between certified CME and promotional activities.
o The ABCs of Accredited CME is an online educational activity for planners and speakers.
The Academy's Lifelong Learner Bill of Rights describes the expectations that AAAAI members have for our educational activities. Please take a moment to review and consider these expectations as you complete the planning for your session(s).
Speakers: Before the meeting we ask that you:
1. Develop a presentation appropriate to the specific topic that is designed for the target audience. The presentation should contribute directly to the learning objectives identified for the session in which you are speaking.
2. Ensure that your presentation addresses the latest advances in the research, diagnosis, and treatment of allergic and immunologic diseases.
3. Submit all requested material such as disclosure statements, handouts and audio-visual presentations by their respective deadlines.

Moderators: Before the meeting, we ask that you:
1. Work with the confirmed speakers to develop specific session content and assist the staff liaison assigned to your session with the collection of necessary materials from your speakers.
2. Once all speakers are confirmed, you will be notified via email. You should contact the speakers prior to the meeting to ensure that the content adheres to the learning objectives defined for your session and is designed for the target audience identified. Your staff liaison can organize a conference call for the session faculty if desired.
STEP 4: FACULTY RESPONSIBILITIES DURING THE MEETING
Upon arriving at the meeting: All faculty members are expected to check into the Speaker Resource Room at least two hours prior to the start of the session in which they are speaking or moderating. Additionally, all faculty members are encouraged to rehearse at the podium in the speaker resource room to get comfortable with the audio visual equipment. Speakers are expected to review presentation slides in the Speaker Resource Room once they have checked in.

Speakers: During your session, we ask that you:
1. Arrive to your session 15 minutes prior to its start and attend the entire session. Your attendance will ensure that the session runs smoothly.
2. During your session, we ask that you provide balanced information that is free of commercial bias. You must disclose your financial and organizational relationships verbally along with the disclosure slide to be provided by the AAAAI.

Moderators: During your session, we ask that you:
1. Arrive to your session 15 minutes prior to its start.
2. Ensure that the session provides balanced information that is free of commercial bias and addresses the latest advances in the research, diagnosis, and treatment of allergic and immunologic diseases. Ensuring that the content is free of bias could include review of the content being presented prior to the audience seeing it.
3. Manage your session on site. Your role includes making introductory announcements, introducing the speakers and keeping the session on time.
4. Facilitate any question and answer or panel discussion segments as scheduled. Most sessions will utilize this audience Q&A technology.
REGISTRATION, HOUSING AND TRAVEL INFORMATION
Registration and housing information will be distributed beginning in mid-October. You will be pre-registered for the meeting once you accept your speaker or moderator invitation. Within one to two weeks, you will receive an email from our registration management partner which will contain your waived meeting registration confirmation number. You can use that number to register for additional ticketed session, some of which require an added fee.

You will need to make your own:
Housing arrangements. You can plan these through the online registration and housing bureau which will be accessible later this fall. Session faculty members are able to take advantage of discounted housing rates.
Travel arrangements. You are welcome to use the AAAAI travel agency, Carnivale Travel, at (800) 747-5387. Carnivale Travel has discounts with many airlines for the Annual Meeting. We suggest you make your reservation as soon as possible to secure the best rate.
Again, thank you for accepting the invitation to serve as a faculty member for the AAAAI Annual Meeting.