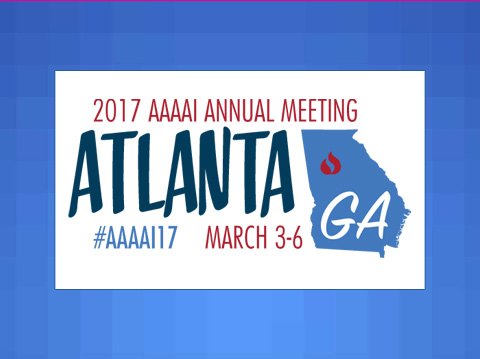 2017 Annual Meeting Theme to Focus on Drug Hypersensitivity
Following the success of the 2016 Annual Meeting, which was the first to have a programming theme, the AAAAI is pleased to announce the 2017 AAAAI Annual Meeting theme is Expanding Practice: Diagnosis & Treatment of Drug Hypersensitivity.

This theme will represent about 20% of the meeting, while the remaining 80% was developed through member submissions. The Final Program will designate which sessions relate to the theme.

Continue reading to hear more about the 2017 theme from the Annual Meeting Program Committee Chair, Mary Beth Fasano, MD, FAAAAI:

How are members reacting when they hear about the theme for the 2017 AAAAI Annual Meeting in Atlanta? What kind of feedback are you receiving?
We have received a lot of very positive feedback regarding the drug hypersensitivity theme for the 2017 Annual Meeting. Our members are seeing an increase in patient referrals for adverse drug reactions so having focused educational sessions to provide them with state-of-the-art approaches to diagnosis, testing and treatment is extremely relevant to their clinical practice.

Allergist/immunologists have made impressive strides in understanding and treating drug hypersensitivity though there is still work to do. Do you get a sense of optimism when working with drug hypersensitivity? How would you describe the energy when tackling this complex topic?
There have been significant strides recently related to our understanding of the underlying mechanisms contributing to drug hypersensitivity reactions. These findings have led to the development of new diagnostic tests, standardization for challenge and/or desensitization protocols and additional guideline-based treatments for drug hypersensitivity reactions–all of which can improve the quality of care for patients with drug allergy.

Compared to other medical specialties, or even compared to general practitioners, why do you think allergist/immunologists have an edge when dealing with the diagnosis and treatment of drug hypersensitivity?
Allergist/immunologists are clearly the most experienced physicians in the area of evaluation and management of drug hypersensitivity. Our training in mechanisms of hypersensitivity, knowledge of immune-based reactions to numerous antigens including medications, and our unique expertise in drug desensitization enable us to provide the kind of safe and efficacious care these complex patients require.