AAAAI Foundation Events
AAAAI FOUNDATION SPECIAL EVENTS AND SUPPORT RIBBONS
Overview
The AAAAI Foundation Benefit and 5K Run/Walk are the premier events to attend while you're in San Francisco. Show your support for A/I dedicated research by registering for these events today!
Add some color to your meeting badge and support research at the same time! Friend of the President and NAIA Support Ribbons are available for purchase online and onsite at the Annual Meeting.
How to Register
Please note: Registration opens in early fall.
You can pre-register for the Benefit, 5K Run/Walk and purchase Support Ribbons through the Annual Meeting registration site. Look for Foundation items in the Activities and Guest section. You can also purchase Foundation items by calling Foundation staff at (414) 272-6071.
Please note pre-registration for these events and items closes February 11, 2019. Onsite registration will open February 22, 2019 in San Francisco.
Benefit
Make plans to join us at the Foundation Benefit on Saturday, February 23, 2019 from 7pm to 10pm.
The Benefit features the announcement of the 2019 Faculty Development Award recipients, delicious food, beverage and entertainment. Dinner will feature a plated duet entree. There will not be any nuts, pork or shellfish on the menu.
Cocktail attire is appropriate.
Benefit Ticket Options
| | |
| --- | --- |
| Patron Table, seats 10 | $3,000 |
| Patron Individual Ticket | $300 |
| NAIA & Allied Health Individual Ticket | $125 |
| Student Individual Ticket | $100 |
| Industry Table, seats 10 | $14,000 |
Benefit Industry Sponsorship Opportunities
For more information, please contact Lee Wiensch at lwiensch@aaaai.org or (414) 272-6071.
Benefit Questions? Please contact Anne Koenings at akoenings@aaaai.org or (414) 272-6071.
5K Run/Walk: Light Up the Night
Mark your calendar for February 24, 2019!
The AAAAI Foundation's 5K allows Joint Congress attendees the opportunity to "run for research" and raise awareness for the A/I specialty. Starting line at the AT&T Park, 3rd Street at Berry Street.
Event Schedule
4:30pm - Onsite Registration and Check In Opens
5:15pm - Warm Up
5:30pm - Race Start
Run/Walk Registration
Online Registration
(closes 2/11/2019)
Includes t-shirt and glow swag
$45.00
Onsite Registration
(opens 2/22/2019)
Includes t-shirt and glow swag
$50.00
Child Registration
Includes t-shirt and glow swag
$10.00
Free Child Registration
No t-shirt or swag included
$0.00
Foundation Support Ribbons
Friend of the President Ribbon
Thank our AAAAI President Robert A. Wood, MD, FAAAAI, for his year of service to the AAAAI with the $100 purchase of a Friend of the President Ribbon.
New Allergist and Immunologist Assembly (NAIA) Ribbon
Your donation of $50 as a member of the New Allergist and Immunologist Assembly entitles you to wear a NAIA Supports AAAAI Foundation Ribbon during the Joint Congress.
All Support Ribbon proceeds go to support our Grow Allergy & Immunology Now (GAIN) Campaign.
Thank you for your support of the AAAAI Foundation. We look forward to seeing you in San Francisco, California. For more information on the AAAAI Foundation visit our website aaaaifoundation.org.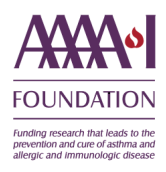 American Academy of Allergy, Asthma & Immunology Foundation Inc. (AAAAI Foundation) Formerly the ARTrustTM
555 E. Wells Street, Suite 1100 | Milwaukee, WI 53202-3823 |(414) 272-6071 | Fax: (414) 272-6070
Email: foundation@aaaai.org | Website: www.aaaaifoundation.org